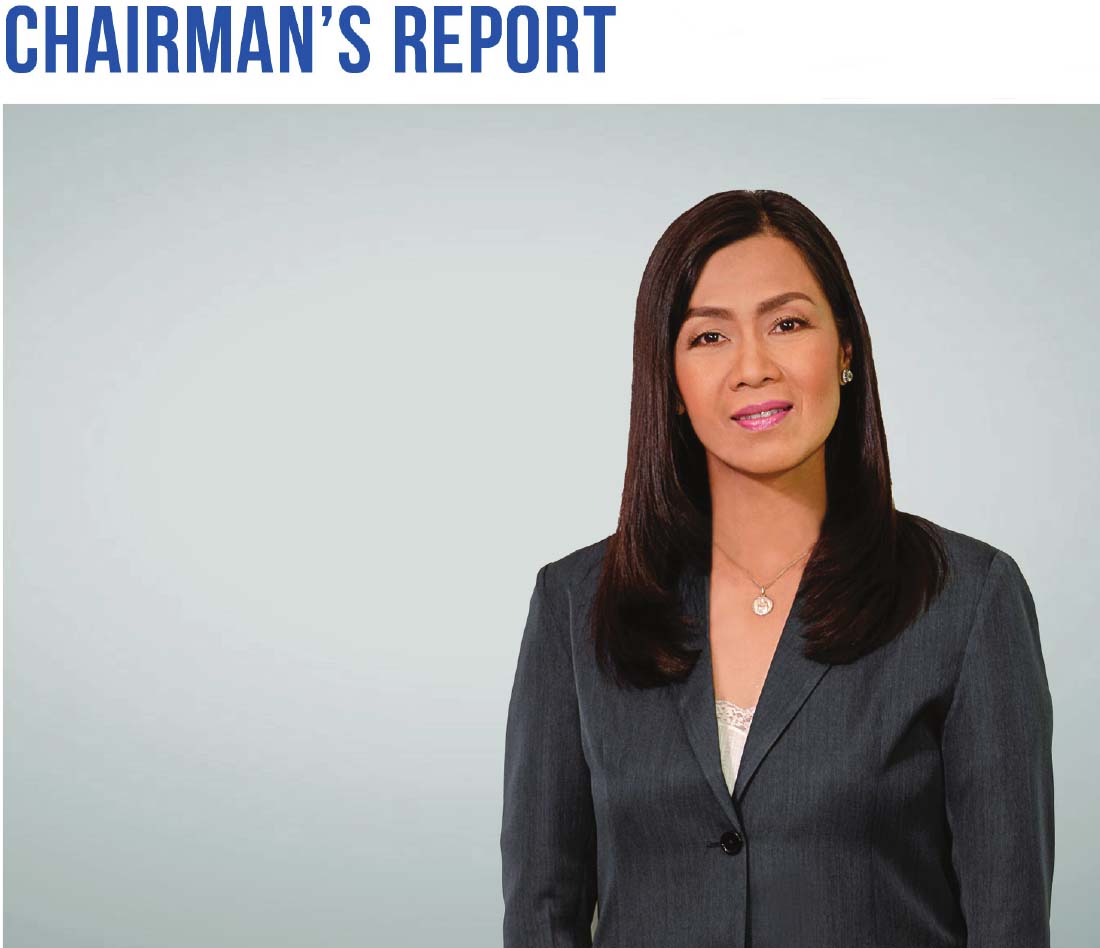 Fellow Shareholders,
When we look at where we stand today, Queen City Development Bank is stronger, safer, and better positioned to deliver long¬term value to our shareholders. We have been operating for 36 years, withstood decades of crisis and has grown by leaps and bounds. The path forward is clearly a bright one and full of promise.
The year 2016 was a challenging one yet sad. We mourned the death of 6,000 Filipinos (at least as reported) killed during the last ten (10) months. The year that went was not a bad year. What really happened was that the media, traditional or social, got a drubbing. Or to be more precise, their politics did which hardly make for a bad year. That stain on the national soul will damage us long after 2016. For Queenbank, we closed the year with significant accomplishments but if we view it in context, we can see how our firm has developed in a short period of time.
Let me now review the year that was. In 2016, your company generated P106 million in revenues. This progress is viewed as the result of continued solid business performance, no longer troubled by litigation difficulty and crisis-related issues. Over the past years, we've used the same strategy that propelled us, rebuild our capital and liquidity base, invest in technology, and pursued a straightforward model centered on business banking. At the core of this model is the commitment we made to make financial lives better by connecting to those we serve and the need to achieve their goals.
Before reviewing the progress we made, let me first highlight a couple of important points. Our board of directors regularly reviews our strategy, the environment in which we are operating, and the progress we are making toward the goals we set. The audit committee, the risk management committee, and the related party committee meets regularly to oversee the progress we made and make recommendations during our regular monthly board meeting on improving them.
Our return on assets (ROA) was-0.31 percent. The result shows we still have lots of work to do. However, we can say that our target is considered doable, driven by continued deposit and credit growth and good core expense management. Expenses were generally within our projected figures but because of the low lending rate environment, revenue was not sufficient to cover for it. Last December, we saw the first upward movement in short-term interest rates in nearly two years. And, while interest rates are still a long way from normal, this move reflects a steadily improving economy, which is expected to continue in 2017 and on¬wards. We see consumers spending and businesses moving, and it's our job to help them.
The revenue we earned in 2016 reflected progress across a range of measures: loan growth, business activity, credit improvement and cost management. Here are some examples of how we supported customers and clients. Your firm:
- Grew core loan balances by P1.355 billion and deposit balances by P1.514 billion.
- Issued nearly 3,459 in account opening.
- Funded P47.2 million in residential home loans, helping families buy or refinance a home.
- Extended more than P54.3 million in new credit to small business owners.
- Increased loans we serve by 8 percent to P102 million.
None of these accomplishments would have been possible without a strong financial foundation. We ended 2016 with a high liquidity base. What does that mean? In a time of financial stress, we could fund our company without the need of sourcing-out funds from BSP. We recorded strong capital base. At the end of 2016, our capital base stood at P658.0 million, meaning we are way above the CAR ratio at 37.6% of the 10% requirement for Philippine banks.
In the meantime, we continue to deliver better qualitative and quantitative measures which we intend to develop further. At the same time, we have been steadily investing in technology, complying regulatory mandated requirements on shift to EMV-ATM card issuance, and the ongoing implementation of the procedural change in the country's clearing operation. From the traditional clearing process, the change calls for an image transfer avoiding delays in the clearing of checks deposit from one bank to the other. Instead of the regular 3 to 5 days clearing of checks, this new procedure has lessened clearing to just a day.
Looking at where we are today, I believe that our franchise is stronger, and well positioned to deliver long-term value to our shareholders. All of us should be responsible enough to grow our market niche and without fail we should: "Grow our market, without excuses; we must grow with our customer focused strategy". Our growth will come through knowing our customers and clients, and being able to do more for them; we must grow within our risk framework. This is the foundation of everything we do; we must grow in sustainable manner. Sustainable manner means having rigorous governance practices, and making decision that are right for the customers, strengthen our brand and treat our employees well.
Growing and Capturing our Market Share
As we are all aware of, we serve two groups of customers: people, and companies. Our ability to meet our customers' needs the way they want should be given full emphasis. Offering checking, mortgages, housing, and auto loans, and deposits these are the tenets of growing faster than the market. Even as we continue to reduce costs, customer satisfaction is increasing because we are doing business the way they want us to. As of year-end 2016, our clients had entrusted us with P1.5 billion of their money to steward for them. During the year we recorded loan growth of 8 percent, and significantly higher deposit levels of 27.5%. Our branch heads continued to broaden and deepen client relationships, providing them with investment advising capabilities along with full financial planning.
For the companies we serve, we had loan growth for our commercial and corporate clients. These loans help fuel the real economy helping small, medium and large businesses grow, add jobs and help families prosper. Recognizing these businesses we serve are the engines of the economy, bringing along solutions like capital raising, lending cash management, trade financing, and more. This helps companies grow, improve cash flow, and invest for the future. We remain well-positioned for growth and continue to expand and invest in our teams to develop new clients and build new relationships.
As we look across our businesses and the clients we serve, we have a leading set of capabilities in every area where we operate. That is the power of your company; that is the strength of the model and the balance we are striking to ensure we are doing all we can for our customers and clients, while optimizing our balance sheet to perform efficiently with the continuing regulatory changes which we must follow.
Our goal is simple. We need to do more with our customers by bringing them everything they need to live their financial lives. I am often asked: "why don't you just go out and buy loans and grow faster?" We won't do that because we want to save our balance sheet, as strong and big as it is, to serve our customers and clients, the relationships we work so hard to develop. In addition, one of the lessons we learned during the crisis was that a substantial portion of our legacy came from the strong balance sheet and very liquid position of our firm.
Growing Within our Risk Framework
As a financial service company, our business is to take risk in a responsible manner that serves our clients and helps the economy grow. Whether investing in a small business, making a credit decision, or preventing fraud, nearly every aspect of our work calls for sound judgment and a commitment in doing what's right for our customers and shareholders. Our culture emphasizes that we are one team, and we have a shared responsibility to manage risk, act responsibly, maintain an ownership mindset, and escalate issues so they can be addressed proactively.
Over the past years, we've reduced risk significantly whether operating or credit risk. For example, net charge-offs, nonperforming assets and delinquencies all improved in 2016. No charge-offs were recorded last year while non-performing loans was registered at an all time low of 1.63 percent against an industry ratio of 5.04 percent. What's important here is how we did it and that is by focusing our efforts on core, creditworthy customers. This is at the heart of our approach: to understand our customers and clients well and do more with them at lower risk. Discipline is the key to an effective risk management practices.
Sustaining organic growth
Building a sustainable company is about how, at the core of everything we do, are guided by our principles to make the right decisions that will hold us in good stead today and in the future. This is done in several ways. Primarily, it is important to maintain our focus on operational excellence, and on the momentum we've built in managing expenses. If we maintain paying loan customers, we reduce expenses for litigation and we just did that This progress is enabled by the investments we make in efficiency.
Sustainability is also about trust. As a company, we continue to build trust that somehow was impacted partly during the financial crisis. That comes down to everything from how we do business, to how we govern our company, to how we invest in technology, and to how we treat our employees. We made progress in all these areas in the past year. In the governance side, we have a diverse and experienced Board of Directors that provides independent oversight. Our Board constantly looks for way to ensure its diversity and strength, and monitors corporate governance' best practice to adapt and improve when necessary.
Finally, being a sustainable company means we value our people and give our employees the support they need to build a career, achieve their goals, and have the resources they need to improve their lives and the lives of their families. All that we are and all that we achieve is because of our employees, and I want to thank them for all they do. Our main focus is to use our size and scale in ways that contribute positively to our communities, create opportunity for our customers and grow our company responsibly.
Outlook for 2017
Sustaining the rosy growth of our economy depends largely on the Duterte government's ability to roll-out infrastructure projects. This program signaling confidence can be done even if no public-private partnership (PPP) project had been awarded in the first six months of the year. Economic growth is expected to remain robust in the near term on the condition that the new administration will carry out its plan to ramp up infrastructure spending, cut red-tape and get it done. It is clear that fiscal stimulus measures will be more aggressive and we expect spending momentum on infrastructure an social services to pick up over the coming quarters. This will also mean more money that will flow in the system, more jobs, more to spend.
Factoring-in the Fed rates hike that started late last year and the cost of doing business, we believe that lending rates will rise starting the second quarter of the year. We see at least one (1) to two (2) percentage points gradual rise which will put banks in a stable revenue taking position starting the third quarter. Increasing our loan portfolio is our utmost desire. We therefore should start to plan early, plant our seeds, and convert target accounts for eventual booking. We badly need to grow this year in line with our thrust in attaining our budget both in loans and deposits. We also need to sell acquired assets the soonest time possible. Involving our personnel in attaining our budget is also a concern. We can do this not only in our deposit and loan campaign but also in servicing our customers and clients well. From the time they enter our offices until they leave our door, its still service.
Let us all adapt an attitude that every day be a market day. It is only us and the rest of our Queenbank personnel and nobody else that can change the course of this bank.
Conclusion
As a financial company, Queenbank continue to build the trust that has impacted the industry during the financial crisis. That comes down to everything from how business affairs are conducted, to good corporate governance, to how it values its customers and employees. We made progress in all these areas in the past year. In pursuing sustainability, Queenbank looked into its size and scale in supporting the economy, protecting its financial infrastructure, and building a great place to conduct business and to work.
As we take a closer look of where Queenbank stands today, we can see tangible results of the hard work as we've strengthened and transformed this company. We have a strong foundation, we have a strategy focused on the customers we serve, and all the capabilities we possess have come together as an engine for responsible growth. Together, we intend to continue and take this company forward and deliver more value to those we serve and most especially to our shareholders.
Thank you for your continued interest in Queen City Development Bank.