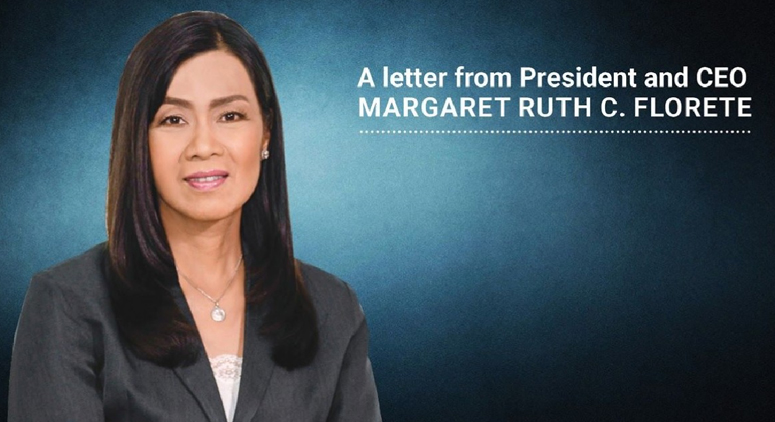 Fellow Stakeholders,
It is my pleasure to welcome you here at the Sky City Tower, Head Office of Queen City Development Bank, Inc. on the occasion of this year's Annual Stockholder's Meeting. I also take cognizance of stakeholders who are attending virtually. We are glad that technology has provided us with an avenue to be together at this most important meeting for the year.
Today, we can look back on another year that proved exceptionally intensive for your and our bank, for our employees, and for all of us in attendance. After a year like 2019, it is especially important for me to be able to talk directly with you. To put it rather simplistically, being the President and Chief Executive Officer of our bank, it's challenging and demanding; it's full of surprises; now and then it's highly emotional and sometimes also quite exhausting. At the same time, it is also extremely fulfilling and gives me a sense of purpose. It is this sense of purpose that helps me come to work happy and energized every day. I feel that I'm leading a bank that is undoubtedly going through a challenging period. But it is also a special institution that has a wealth of opportunities and worth fighting for.
Why? Because this bank, our Queen City Development Bank, constantly proves that it possesses remarkable resilience and inner strength Resilience and strength which many people underestimate. It may not seem so at first glance but except for deposit and loan budget which most branches failed to achieve, we accomplished a lot in 2019. And, that was despite some strong headwinds, starting with the adjustments we've made on our digitization, followed by critical liquidity squeeze in the early part of the year, and culminating with strong revenue taking. These events provided the needed push sailing towards 2020.
For this I would like to thank first and foremost our stakeholders who supported us through thick and thin, our Board of Directors for their continued commitment, their loyalty, and for the way they identify with our bank. It's this commitment, and this sense of identity, which ensure we remain successful during tough times. We are Queenbank.

Let me try to put it this way:
We managed to successfully convert our system into a fully digitized one, from CASA to credit, accounting, and regulatory reports;


We ended the year with approximately P182.6 million in audited revenue, better than what we've recorded in 2018; and,


Our capital account grew to P724.1 million making Queenbank as one among the highly capitalized stand-alone thrift bank outside Metro Manila.
Those are just a few facts and figures which demonstrate that the work we do has a visible positive impact. We help boost the economy and foster growth. We help businesses create jobs.
A REVIEW OF 2019
First, let me look back. In 2019 our task was to improve on our deposit taking and loan booking, after reporting marginal growth for two years in succession. Another priority was to lay the foundations for the next phase that began at the end of 2019. It's about transformation and growth. If we look back at last year' we can say that except for a few, we failed to achieve our objectives that we set out for middle management a year ago to accomplish. That is why it was clear to me from the beginning that we have to win back your trust. We commit to our objectives and we're doing everything in our capacity to meet them. We presented a program to middle management at last year's TLMC and since then we have been implementing it rigorously. Day by day, week by week, month by month. We had and have a clear agenda that you can use to track your progress.
So, what did we achieve in 2019? As promised, we strengthened our stable business. By that we mean our management of the bank's loan portfolio, our digitization of CASA, Centralization of Credit Administration, Central Accounting Department, and Treasury
To maximize revenue stream, we made effective use of credit risk evaluation, managed our lending rate offering and avoided risky loan granting to account graded good and below. Others may say that Queenbank is either conservative or avoiding granting of credit but the truth is, we stick to our strong risk management guidelines that speaks the truth about our probable loan proponent. The effect: zero past due;
As promised, we were rigorous in cutting costs. Atthe same time, we didn't just maintain our financial strength, we actually improved it further. Our provision for credit and other losses have also been fully provided during the year; and,
Despite the regulatory agency's stringent liquidityratio implemented at the start of 2019, we were able to manage our liquidity ratio in compliance to what is required of us. We're now deploying this surplus to support additional client business, or to invest in low-risk high yielding securities to boost revenues.
As President/CEO of this bank, I can assure you: our balance sheet is as strong and solid as a rock. That's a firm foundation for us to grow our client business.
CONTROLS AND STRATEGY
We managed to achieve all this in a very competitive environment. Especially towards year-end, when the market condition was tough. With a strong stand of our Compliance Unit, we have reduced litigation risks. But this isn't about controls. It's about our values and beliefs, too. We will only achieve long-term success for our clients if we act collectively with integrity and discipline. Each and every one of us has to live and embrace this corporate value, day in and day out. And that's the course we have set for our bank, Queenbank.
Our bank, Queenbank, needs a clear focus. It needs to be a bank that is completely focused on the banking needs of clients and at the same time whose branch performance is less volatile. This requires further changes in our mindset as bankers, far-reaching changes on how we view the business of banking and the ability to turn our individual branches into profit centers. Among them are:
We aim for our bank to generate stable revenues;


A bank whose branches have clear return targets. No ifs, no buts. This applies to all;


It's about a bank which seizes the opportunities offered by technology and innovation to become competitive and efficient. To get there, we need to continue enhancing our infrastructure;


And, it's about a bank that puts people both clients and employees, back at the center of what it does and helps them navigate a fast-changing landscape. A bank which positions itself in the midst of society and is closely connected to the real economy. That's the basis for long-term success.
In the mid-term, we aim to continue our focus on reducing controllable expenses, finetune our technology, boost innovation, and finally, grow in our core businesses. Everyone will profit on this.
ENTREPRENEURIAL CULTURE
Our success in transforming the bank will not only depend on clear objectives for revenues, costs, and returns on equity. We have to fundamentally change the way we think and work. Too often in our bank it was still the conservatives, not the innovators, who had the upper hand those who administer the old rather than seizing opportunities. That's what we're going to tackle now. How will we do that?
By changing our attitude, by embracing and harnessing change. By adopting more of an owner's mentality. By putting people at the center of what we do, both clients and employees. If we follow this path, we will be much more successful. We have so much potential in this bank, we have the talent within our ranks that we can surprise our clients and ourselves every day. We just have to provide the necessary tools and clear away the obstacles. Besides integrity and teamwork, there is another attribute we have to rediscover that has made this bank a place to do business: entrepreneurial spirit and achieving excellence.
One thing is essential: we must act in sustainable way, from the perspective of the environment and communities we operate in. Having a sustainable business strategy is not just window dressing to gain positive publicity. It's a prerequisite to make sure we retain our license to operate. For that reason, we at Queenbank must also play our part in climate protection and sustainable development in the way we extend credit, through the products we offer, and through the principles and policies we live by.
MOVING FORWARD/A BLEAK OUTLOOK
Early on, bankers anticipate continued growth for the year 2020 due mainly to the country's strong economic fundamental. Generally, bankers believe that growth this year will continue as demand for consumers loan, as well as small to medium size businesses is expected to fuel the rise.
But growth forecast was totally stalled upon the arrival of the coronavirus disease in our country in the early part of the first quarter. What was initially thought as a seasonal viral flu, the virus spread worldwide placing the world population at risk of infection. To contain the spread of this virus, the national government placed the entire country under Enhanced Community Quarantine (ECQ). Health officials started issuing protocols like staying at home, maintaining proper hygiene, wearing of mask when you're outside, imposition of curfews, and to avoid panic, only businesses considered as essentials like supermarkets, pharmacies, hospitals, banks, radio and TV networks, and funeral parlors were allowed to open during the lock-down. Quarantine pass for emergency use was also issued.
The COVID-19 pandemic and the two-month implementation of the ECQ has brought substantially all businesses to a sudden and unexpected stop. As a result, many businesses are now facing economic distress, leading to drastic cost-cutting, lay-offs, pay cuts, and even the possibility of permanent closure. Even as the government slowly relaxes the quarantine measures, it is expected that the effects of this crisis will continue to be felt and that businesses will continue to struggle through the 3rd and probably the 4th quarter of 2020.
Our country was the first in Southeast Asia to shut down large swathes of its economy since mid-March. Restrictions on closure of businesses dragged GDP in the first 3 months to a 0.2% contraction, with the government expecting a deeper slump this quarter. It is hoped that with the gradual opening of businesses allowing them to restart after May 15, taking into account downside risks involved in re-opening the economy, a large-scale fiscal easing and stimulus is also needed to push the country back to where it belongs.
OUR PROGNOSIS
It is a given solution that a large fiscal package could boost domestic confidence to counteract a slowdown. As to how the stimulus will be done, finance people are expected to lay-out their plans soon. Meanwhile, we did a reality check particularly our bank (Queenbank) may face in the immediate term noting the serious economic setback and tremendous financial pressure caused by the coronavirus disease. It is therefore essential that we should maintain our financial health in order to cushion the adverse economic impact of this pandemic.
Tougher times lie ahead. It is no surprise that banks are desperate to conserve their cash positions. We do ours by reviewing it regularly. This is a process to keep an eye on, even though the BSP is guaranteeing access to funding right now. What if business also shifts along with deposits? And, if we get through the next three months, what happens to our Joan portfolio over the medium term? More likely though, the consensus now holds a U-shaped recovery as the very best we can hope for, with a Jong convalescence after the Jockdowns in which some companies, especially highly leveraged ones in vulnerable cyclical sectors, will fail. At some point, non-performing Joans may start to rise. All that remains to be seen is how fast and how far.
Likely Joan losses come just as new accounting rules require banks, to provide against expected losses across the full lifetime of a Joan if a borrower suffers a significant deterioration in credit quality. Expect to hear a lot more about this measure in the weeks ahead. Banks have enjoyed record low NPL performance in recent years thanks to low rates and modest unemployment. That is over now.
The rigor of our regulators' underwriting standards in recent years will now be tested. We are hopeful that what was perceived to mitigate banks through this critical time will work. Let's hope it stays that way. The main problem that banks may face in the near term will be on how to handle repayment of Joan accounts of affected borrowers. Regulators should also assist banks by providing incentives like suspension of account classification for a longer period of time, allow longer extension of maturity period, and easing of reserve allocation to classified borrowers.
CONCLUSION
The impact on the economy will be larger than currently assumed if the global outbreak is prolonged beyond the first half, or if there is a sustained prolonged local transmission in the Philippines. The inevitable effect of the lockdown measures was to create dislocation of the economy. Much more than amelioration of the economic conditions, is the need to protect the economy to restore economic activity and to resume growth. Demand needs to be restored and the strength of the economy have to flex somehow. With many developing countries facing the prospects of a deep recession, the Philippines could further turn to institutions that will assist in weathering the storm. Finance managers could take advantage of the facilities that multilateral global institutions are offering to mitigate the impact of COVID-19 and help restore economic growth.
The COVID-19 pandemic, however, has changed the outlook for many economies. For our country, the threat would likely be centered on a weakening Balance of Payments position that has to be propped up. A respite must be provided while the rise of government spending and the fall of revenues has weakened the fiscal position of the government. In such cases, support from the external institutions would be justified. Such support would also strengthen the economy's recovery. This takes wise, insightful and persuasive leadership. Hopefully the crisis makes possible the overcoming of obstacles that prevent good reforms from taking place.
Moving towards this critical time, we are determined to accelerate the transformation with all our energy and absolute focus. We must, and will, go further. With modesty and with pride that is exactly what I am asking you to support.